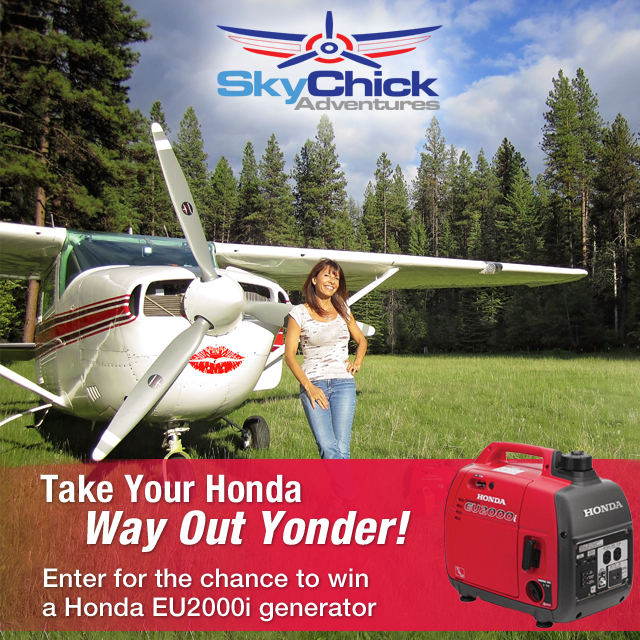 For fifteen years, air adventurer Ramona Cox has been flying to remote strips all over the Great West, and she typically finds herself "alone in the wilderness." That, of course, is the idea! Ramona has found all sorts of ways to thrive while away from civilization, but even the most independent of people still need the power to do it all.
Although Ramona once counted on solar panels to keep her satellite phone and small devices charged, she outgrew the capabilities when she added multiple devices such as lanterns, GoPros, computers and an iPad which require a lot more juice than the panels could produce. She also couldn't risk the total loss of power for all of her devices which was inevitable when she encountered multiple overcast or rainy days.
"As I've done more and more work in the wild, I've needed way more power than the solar cells can produce," Ramona, aka SkyChick, says. "Sometimes, I've been out for months, evaluating equipment, filming, taking stills… and uploading content via a satellite connection to share the real-time experience with my website.
Read More and Enter Sweepstakes...
---
PILOT GETAWAYS ACQUIRES AMERICAN AIR CAMPERS ASSOCIATION
As of January 24, 2012, Pilot Getaways magazine acquired American Air Campers Association (AACA) and has assumed management of the website and database.
AACA members may continue to use their login ids until the expiration of their AACA membership. As a bonus, they will also receive a Pilot Getaways subscription and a membership to the Recreational Aviation Foundation (RAF) for the term of their existing AACA membership. Current Pilot Getaways subscribers and RAF Donor Members can now also enjoy access to the AACA database.
For details, see our press release here.
If you're a Pilot Getaways subscriber, click here to get your password to the AACA database, or visit http://pilotgetaways.com/aaca/register. We expect to grant RAF Donor members access by the end of the week.